Disability and sexuality, it's validated! An inspiring webinar organised by the SexTechForGood association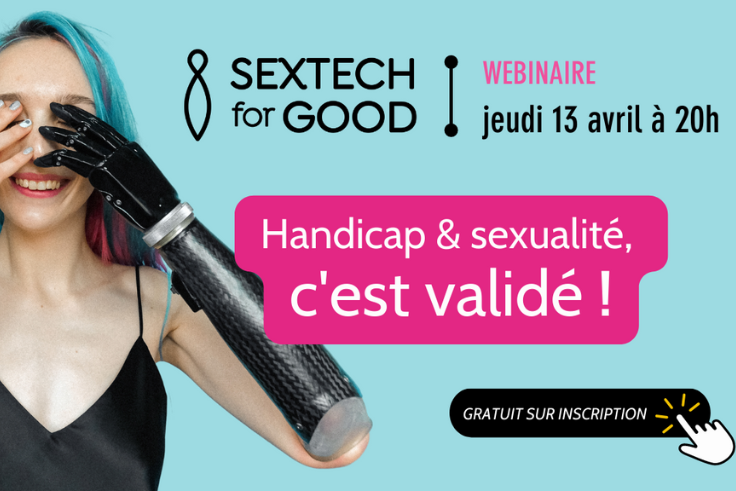 The
SexTechForGood
association, dedicated to the promotion of positive and inclusive sexuality, is organizing a
webinar
entitled "Disability and sexuality, it's validated !".

Hosted by SexTechForGood co-founders Christel and Manon, this online event aims to raise awareness and provide information on the issues related to sexuality among people with disabilities, and to promote a respectful and caring approach to sexuality for all.
The webinar will also feature experts in the field of sexuality and disability, as well as people who can speak directly from their experiences. These qualified speakers will share their knowledge, experience and thoughts on the challenges and opportunities related to sexuality for people with disabilities.
You will find the following speakers:
Laetitia Rebord, creator of
Sexpair
, sexual peer helper,
During this webinar, several topics will be discussed, including :
The rights and issues of sexuality for people with disabilities.
Stereotypes, prejudices and taboos associated with sexuality and disability.
The specific needs and adaptations required to promote a fulfilling sexuality for people with disabilities.
The resources and tools available to support people with disabilities in their sexual lives.
This webinar is intended to be interactive and participatory, with the possibility to ask questions to the speakers and to exchange with other participants. It aims to promote understanding, empathy and inclusion in relation to sexuality, and to encourage open and constructive dialogue on this often taboo subject.
Don't miss this opportunity to learn and exchange on the themes of sexuality and disability, we are waiting for you !